Plumbing Service - Why Repipe?
In the older days homes and apartment complexes were built with galvanized piping which in time will rust and deteriorate. Soon you will see a loss in water pressure and leakage that will damage your home and apartment. The corroded pipes can also cause rusty water or foul smelling water which is unfit to use or consume. Slab leaks are another sign of bad piping.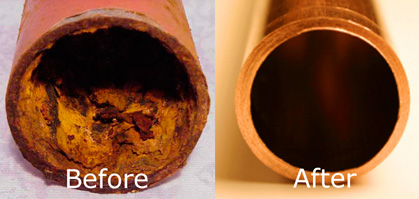 Plumbing Service - We Can Help!
The remedy to this problem is to copper repipe your home or apartment. We use high grade industrial USA made type L and K copper material which will stand the test of time. After which you and your family can enjoy high water pressure and healthy water to consume. Take a look at some of the major benefits to your right.
When you repipe with us today, we will give you 20% discount and a water heater FOR FREE.
All it takes is just one phone call and we will schedule a time to come down to your home or apartment complex and give you a FREE PLUMBING SERVICE ESTIMATE!
If you're ready, simply click here to contact us >>> FREE ESTIMATE
Benefits